This page is for medical professionals.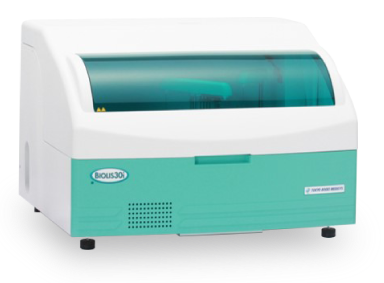 Automated multi-functional biochemical analyzer

BIOLIS30i

Space-saving compact benchtop design
With auomated pretreatment function for HbA1c.
POINT
Compact, Easy to use, and Enhanced function
We have been done R&D not only efficient clinical testing operation but also accuracy for 20 years.
Our technology provides the value and contributes to the patients.
01

Setting Envionment
Compact and Space-saving
It will be installed as long as the (W) 80 cm x (D) 67 cm area. This is a separated type, BIOLIS and the operation monitor, and set it as you like wituout any special electronic-works and water-works.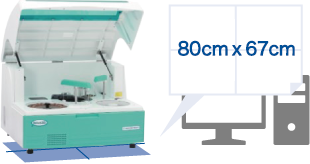 02

Specifications Considered to design the operation route.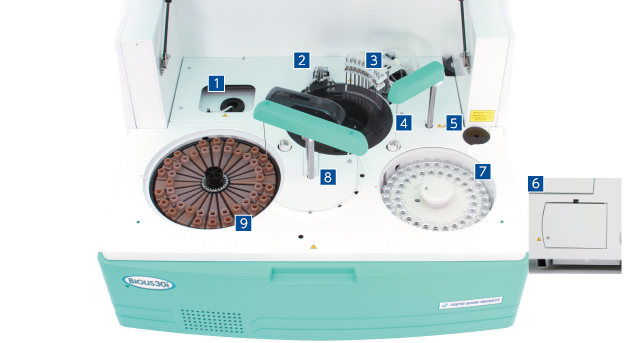 1

Illuminant Lamp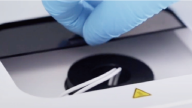 Easy to change it.


2

Reaction tray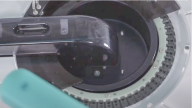 Set 60 reaction cuvette with direct heating method.
3

Washing function of reaction cuvette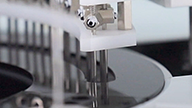 Wash the rection cell before/after testing with washing solution and vaccum the water.
4

Sample probe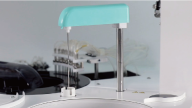 Loaded the clotting detecting function of absorbing and washing.
5

ISE sample injecting port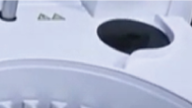 Integrated device and space-saving.
6

ISE unit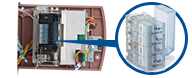 As the ISE unit is indipendent from biochemistry unit, keep the reaction in the capacity.
(* ISE unit is an option.)
7

Sample tray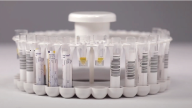 Up to 30 samples at one time and using blood-collecting vessel, blood glucose and sample cup.
8

Reagent probe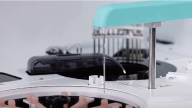 To avoid contamination, probes exclusively for 1st and 2nd reagent use.
9

Reagent tray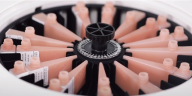 2 types of tray capacity, 36 and 24 reagents respectively with a cooling system.
03

Features
Throughput
270 tests per hour, 450 tests per hour with ISE at the calorimetric measuring unit. 90 tests per hour for HbA1c only.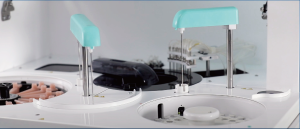 Sample Type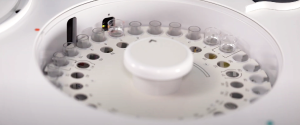 Serum, plasma and urine
Simultaneous Capacity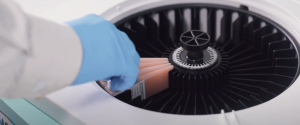 36 or 24 reagents of calorimetric testing at one time. It is possible to select what your need.
Clogging Detection System
BIOLIS monitors the change of absorbing/washing pressure of samples. If clogging is detected, flushing will start automatically. This will not interrupt the sample testing.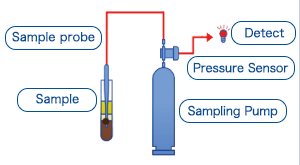 Probe Collision Detector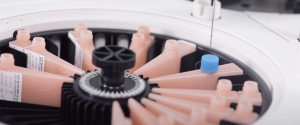 With the function of detecting the impact when placing of the samples or the reagents probes. If it not aligned, the placement will stop.
Barcode reader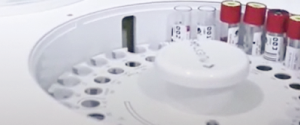 All samples and reagents are with barcodes to avoid mistakes.
Plastic Reaction Cuvette
We have improved the reaction cell again and again. The cuvette is a plastic semi disposable with water-repellent treatment.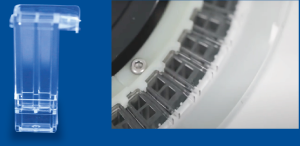 Air Pressure Mixing System
We developed a special cuvette for air pressure mixing. No stirring bar, less carry-over and water consumption. Also, reaction solution is not diluted by carried-over washing solution. To suppress the reduction in the capacity accompanying washing of contamination.

Automated Pretreatment Function for HbA1c
We developed an automation system for absorbing whole blood and hematolysis from a bottom of blood vessel. It is available for serial testing of calorimetoric, ISE and HbA1c.

Designed of Unity for Interface and touch panel monitor
Everyone who can operate the side menu at the left side on the screen. Easy to operate because this is a touch screen.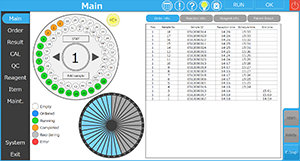 You can check each cycle information at the reaction information page in real time and confirm a list of receiving time and result output time at testing request information page.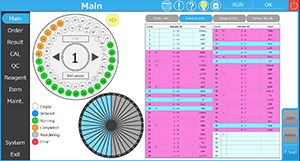 Automatic startup and shutdown
Once set each days and each time, the device is started and shutdown automatically. Then, you set a calibraton/control sample only the device is set-up in advance. Also, a maintenance is done the timing that after set-up and before shutdown. Therefore, we support you efficient operation.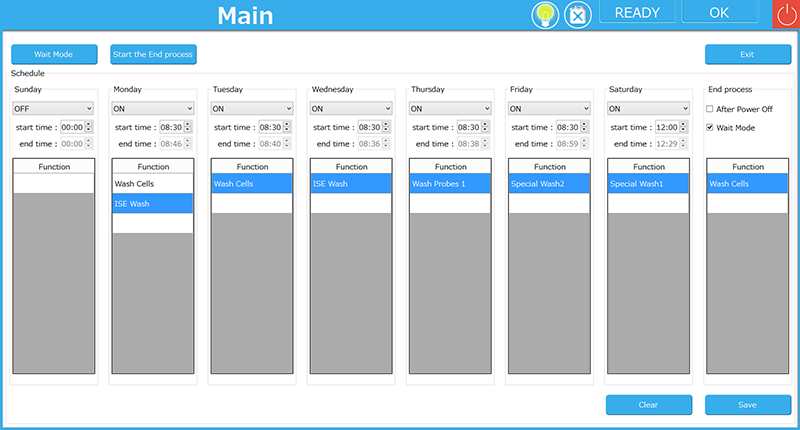 Automated-Dilution Function
It does not take a time for re-testing because dilution and dilute solution are automated.
Quality Control
It is easy to confirm the testing phase from receiving to checking on the screen. Once register a measuring items in advance before receiving, do not need register again. Also, check the result of QC on the screen. If it is not in the range, the score is highlighted. We provide you an easy daily control with minimum labor.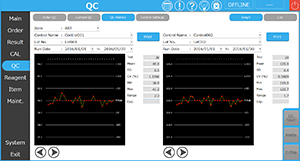 Water Consumption
A small-size pure water unit is just enough to install BIOLIS and pure water consumption is maximum 3.8 L/h. Even if you cannnot prepare an area for the pure water unit, it will be fine as long as you have the (W) 80 cm×(D) 67 cm space.

Voice Guidance
Inform completing preparation of testing, finishing sampling, finishing testing and errors by voice guidance.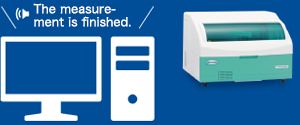 BIOLIS Series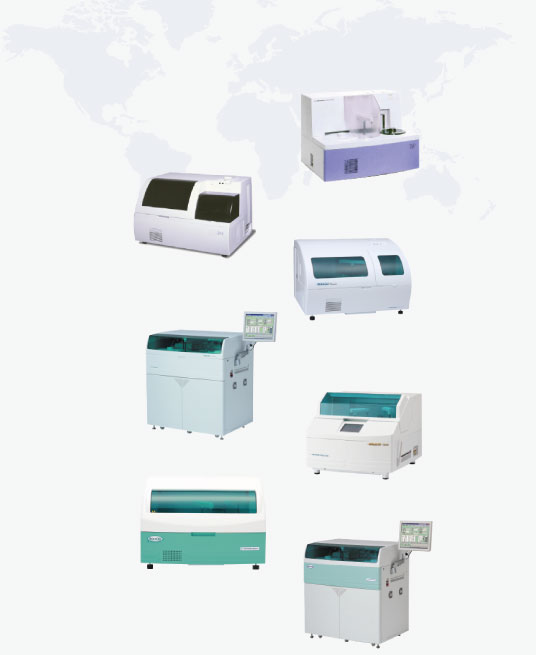 2003
Approved CE marking and UL standard
2005
More than 1,000 unis installation all over the world.
2008
More than 3,000 unis installation all over the world.
2009
Launched BiOLiS 24i Premium
Launched BiOLiS 12i
2012
Launched BiOLiS 50i Superior
More than 5,000 unis installation all over the world.
Launched BiOLiS 15i NEO
2013
Approved ISO13485
Medical devices — Quality management systems —
2016
Launched BIOLIS 30i
Launched BIOLIS 50i
2020
BIOLIS series are installed more than 7,800 units all over the world from 1999.
Installed 7,872 units as of October, 2020.